WOLFTECH in a few words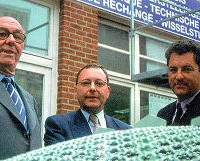 WOLFTECH Wolftech is a branch of the construction materials group Wolf-Zondervan
Wolf-Zondervan was founded in 1901 by the family of the actual managers Christian and Patrick Wolf.
The company is on the markets of the concrete centrales , concrete moules, machine for the bending of steel for concrete, lifts for sites and other machines usually used on sites.
WOLFTECH today
WOLFTECH is exclusive dealer for the Hunnebeck formworks for Belgium.There is more our less 100.00m² formworks panels on our place in Machelen (near Brussels airport).
Products
– MANTO : large area wall formwork panels for the big sites.
– RASTO TAKKO : crane independant wall formwork.All panels can be handled by hands or by assembled in large units.
– RONDA : circular formworks. The panels can be adjusted steplessly and with milimetre precision to radii of 2.75 m and upwards.
The RONDA panels can be connected with MANTO panels.
– H20 formworks : with plywood , standards H20 wooden beams and steel wallings
– Column formworks with MP panels
– TOPEC : formworks for slab thickness up to 50 cm
– ID 15 : frame supports
– Heavy duty props up to 22 kN
– H20 : floor tables
– Aligning struts up to 10.50m
– MODEX & BOSTA : scaffolding systems
– PROTECTO : protections against falling off system
Services
Wolftech is able to give to the all customers a full integrated study and delivery service for all the formworks ans scaffolding products.
Also on demand technical training courses in our office or on the sites.